Multipak Atom 4 Linear Weigher
1,2,3,4 lane linear weighers available. Ideal for dry products including granulars and some powders.
Available with a stainless steel frame and foot pedal for manual bag filling, this linear weigher has 4 individual lanes making the machine fast whilst maintaining a high level of accuracy.
This linear weighing machine will run at up to 40 weighs per minute with target weights from 5g - 2kg per lane.
The simplicity, yet robustness of the software in this machine makes it extremely easy to setup and learn whilst offering many advanced features to fully optimise and hone your product for speed and accuracy.
This machine can also be used to mix up to 4 products at once into a single output with minor modifications to the main hopper.
Fully stainless steel construction with lift off working parts make this machine easily and quickly cleaned down ready for the next product.
PLEASE NOTE: THIS MACHINE IS ALSO AVAILABLE AS 1, 2 OR 3 LANES DEPENDING ON SIZE REQUIRED.
Additional Information
Location: North East UK
Manufacturer: Multipak
Model: Atom 4
Manufacture Date: 2017
Condition: New
Usage: None
Viewable: Yes
Warranty: 12 Months
Suitability: Suitable for a huge range of dry products with granular to large piece size. Also suitable for some powders.
Construction: Stainless Steel
Power Requirement: 220VAC
Air Requirement: None
Max Speed: 40
Food Safe: Yes
Max Target Weight: 2Kg
Min Target Weight: 5g
Heads: 4
Machine Videos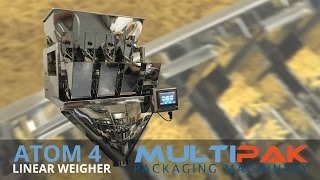 Video of Multipak Atom 4 Linear Weigher
Multipak Atom 4 Linear Weigher
Click the video image to play...

Click the thumbnail images to view larger versions.