Ishida Multihead Weigher - S-Type - 10 Head
Ideal weigher for granules, confectionary, snacks, pet food and more...
We have an Ishida 10 head S-Type weigher manufacturered in available for immediate sale. The machine is in good condition for is age and is complete with control panel.
Ideal for dry food and non-food products.
Suitable for granular & solid piece products.

100% working order, refurbished and available now.

Fantastic quality, great runner, many more years production ahead of it. Top class manufacturer and model.

This Ishida Multihead Weigher is the ideal weighing solution and is suitable for a huge range of food and non-food products.

This Ishida Combination Weigher is a 10 head machine utilising 10 pool hoppers and 10 weigh hoppers. It has smooth stainless steel contact surface and large, tight closing 3 litre bucktes making it perfect for anything from loose, granular products to bulky products with large piece sizes.

============================================

Contact Us:
Tel: +44 (0) 845 834 0 841
Email: info@foodproject.co.uk
Location: Grimsby (North East, UK)

============================================

We have an Ishida S-Type multihead weigher with single opening anti-leak weigh hoppers that is ideal for weighing granulary and grainy products such as seeds, rice, pasta and other dry products.

It will also weigh larger piece products such as buscuits, pet foods, confectionary and a variety of other food and non-food products.

The Ishida multihead weigher was built in 1987 and with Ishida's impeccable reputation for extended product lifespans, this machine is expected to last for many more years to come.

The machine has smooth contact surfaces and discharge chutes making it ideal for light dry products but not suitable for damp, wet, sticky products or salads.

It was previously used for running bird seed and has beed refurbished and cleaned ready for immediate sale.
Additional Information
Location: UK
Manufacturer: Ishida
Model: CCW-S-202
Serial Number: 87/693 12494
Manufacture Date: June 1987
Condition: Used
Availability: Available Now
Storage: In Workshop
Viewable: Yes
Suitability: Dry, grandular or solid food and non-food products
Heads: 10
Machine Videos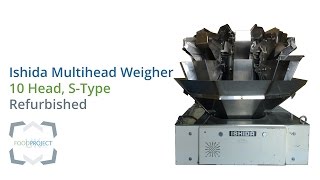 Video of Ishida Multihead Weigher - S-Type - 10 Head
Ishida Multihead Weigher | S-Type | 10 Head
Click the video image to play...

Click the thumbnail images to view larger versions.