14 Head Multihead Weigher
Stainless, food safe multihead weigher.
These machines are extremely accurate, fast, efficient and extremely reliable, they are also capable of working with a large range of products and product types and they have been designed to be extremely simple to setup and operate! These machines will also suit a wide range of products.
The Galaxy 14 head multihead weigher is available as standard or with dimpled contact surfaces to help move damp or sticky products and will run reliably and accurately at up to 90 weighs per minute. Speeds are affected by target weight, inconsistent product feeding, product type and viscosity.
Summary
Overall the Galaxy premier weigher is an extremely accurate, affordale and reliable, quality weighing solution for medium to large weighing operations.
Suitability/Suitable for a wide range of products including damp and sticky products.
Accuracy
Extremely high accuracy multihead weighing.
Speed
Up to 90* weighs per minute.
*Maximum speed is determined by target weight, product viscosity and quality of product feed.
Affordability
Affordable for medium to long term weighing requirements.
Simplicity, Ease of Use
Very simple machines to use and run. Require no previous knowledge of machines or operation experience.
Reliability & Quality
High quality, reliable machines will easily run for extended perious with no loss of quality or accuracy.
Required Labour
Can be run by one person providing an automated feed system is used.
Additional Information
Location: Grimsby
Manufacturer: MultiPak
Model: Galaxy LD
Manufacture Date: Built to Order
Condition: New
Viewable: Ask
Warranty: 12 Months Manufacturers Warranty
Construction: Stainless Steel
Power Requirement: 220VAC, 50/60Hz, 1.3Kw
Dimensions: 1245 x 1210 x 1388mm
Max Speed: 90
Waterproof: Yes
Food Safe: Yes
Max Target Weight: 3Kg
Min Target Weight: 10g
Heads: 14
Machine Videos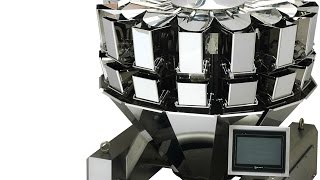 Video of 14 Head Multihead Weigher
Multipak Multihead Weighers
Click the video image to play...

Click the thumbnail images to view larger versions.